Main News
Site News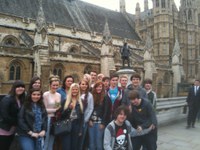 The pupils at the Houses of Parliament
18 pupils took the opportunity to visit London on the annual Modern Studies visit to the Houses of Parliament. In addition, the group took time to go shopping on Oxford Street, take a flight on the London Eye, check out the London Dungeon and take in a performance of Mamma Mia. Quite an intense 24 hours.
Feedback was very positive from the pupils involved. All said enjoyed themselves and felt they learned something. The pupils were also complimented on their good behaviour and questions from the parliamentary guides. Well done to each of you, you were a credit to the school and yourselves.
Thanks once more to local MP Jim McGovern for arranging the visit to the HoP. Jim will follow up with a visit to MHS next January.
The Go Africa! team are just about to set off on their Kenyan adventure to build a classroom and work on an irrigation project.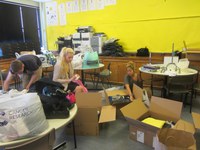 Packing boxes of aid
https://blogs.glowscotland.org.uk/dd/gaf/
The Go Africa! team are about to set off on their expedition to Kenya which is the culmination of over a year of fundraising. They will be working with a poor rural community in Kandaria, about 20km from Kisumu near Lake Victoria. WE will be building a classroom, teaching S1 and S2 and working on an irrigation project.
We are also taking out medical and educational supplies and clothes. The team have been very busy gatjering and packing these resources.
The team leave on Tuesday 23rd July and will return on 11th August. You can follow our adventures on our blog
New edition of newsletter now available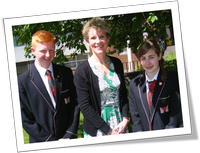 Miss Gray with the new Head Boy and Head Girl
Menzieshill High School win 11 medals including 6 gold
Menzieshill High School participated in the Dundee Schools Athletics Championships on the Thursday 13th June at Caird Park.  Pupils competed in many different track and field events ranging from 100m Sprint to the Shot Putt.  They performed excellently in all events entered and the championships highlighted the talent of our pupils. Medal winners were as follows:
Gold -                      Pavel Pliskov                      Shot Putt
                                Beth Fyffe                           Javelin
                                Kirsty Bell                            1500m
                                Shaney McCabe                  Long Jump
                                Carys Anderson                   Shot Putt
                                Beth Robson                        Javelin
Silver-                    Hannah Edwards              Shot Putt
Bronze-                   Kirsty Bell                            800m
                                Shaney McCabe                 100m
                                Shaney McCabe                  200m
                                John Sinclair                       High Jump
Throughout the whole day Pupils were courteous and friendly to other competitors and officials.   These pupils were also confident, enthusiastic and determined individuals and were an asset to the school.  Congratulations to all medals winners and participants. 
Mrs Waddell
PT Physical Education
S3/$ Girls Football
Well done Menzieshill 3/ 4th year girls Football team who came Runner Up in the Active Schools Dundee Schools Football Final. The girls were up against all other schools in Dundee and tremendously well. The team consisted of Stacy Fraser, Kirsty Menzies, Beth Forbes, Carys Anderson, Brogan Spink and  Beth Robson.
Senior Table Tennis
Also well done to the Senior Table tennis team who came third in the recent Table Tennis tournament. Players consisted of Ian Christie Kevin Rankin and Andrew Edward. Well done boys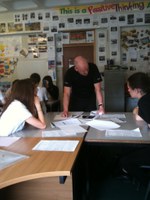 PCs Kevin O'Donnell, Jim Mitchell and Frank Storrier visited the Modern Studies Department (5 June) to lead a group / role play learning experience highlighting the ways in which the police respond to a large scale emergency, why the support of the public is important in ensuring effective policing and why it is important for the both the public and the police to react in a fair, balanced and impartial manner. Feedback from the S3 and S4 pupils involved was positive in what was a different but interesting way of learning. A special mention to Callum Ewan and Niamh Brunton who were 'promoted' on the day to Chief and Deputy Chief Constable for an excellent press briefing.
PC Storrier who is the community police officer who is the community police officer for this area of Dundee will return to speak to S4 pupils next session on the role of a community police officer. Thanks to everyone involved for their hard work.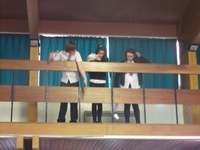 On Thursday 28
th
March all S1 pupils gathered in the hall to participate in the Science Easter Egg Challenge.
Their challenge was to protect an ordinary egg (uncooked) from breaking when dropped from the walkway in the hall.
Prior to the challenge pupils had chosen their teams (maximum of 4) within their own school houses and had decided on a team name.
Pupils were given 25 minutes to design something that would protect their egg many having brought resources from home with some supplied by the science department.
All pupils worked extremely hard on their designs and great team spirit was shown by all pupils.
After the 25 minutes were up eggs were then dropped from the walkway to see which designs could indeed protect the egg from breaking.
Many interesting designs were seen including putting an egg in a jar of peanut butter, wrapping the egg in glittery play dough and many designs featuring a parachute
.
Many of the eggs survived the fall showing that we have super scientists within Menzieshill High School.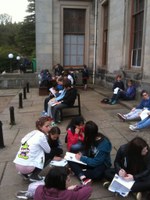 S1 visit to Camperdown Park
Sixty S1 pupils were given the chance to visit Camperdown Park as part of a cross-curricular Social Subjects event. After a series of learning activities that had a focus in Geography, History and Modern Studies, the pupils then had the chance to play rounders, football or visit the wildlife centre. Although there was heavy shower around lunchtime, it didn't dampen the enthusiasm of the pupils (and staff!). Feedback on the day was generally very good with pupils making connections in their learning, as well as keeping fit and enjoying themselves. Well done to everyone who took part. Behaviour was very good and it was great to see so many of our young people joining in and having fun.
The SQA have issued an information leaflet about the new National Qualifications for parents and carers. You can find it here in the Parents section of the website.