Easter Egg Challenge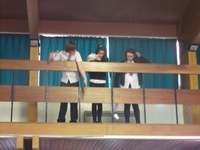 On Thursday 28
th
March all S1 pupils gathered in the hall to participate in the Science Easter Egg Challenge.
Their challenge was to protect an ordinary egg (uncooked) from breaking when dropped from the walkway in the hall.
Prior to the challenge pupils had chosen their teams (maximum of 4) within their own school houses and had decided on a team name.
Pupils were given 25 minutes to design something that would protect their egg many having brought resources from home with some supplied by the science department.
All pupils worked extremely hard on their designs and great team spirit was shown by all pupils.
After the 25 minutes were up eggs were then dropped from the walkway to see which designs could indeed protect the egg from breaking.
Many interesting designs were seen including putting an egg in a jar of peanut butter, wrapping the egg in glittery play dough and many designs featuring a parachute
.
Many of the eggs survived the fall showing that we have super scientists within Menzieshill High School.