Chemistry Department News
News for Chemistry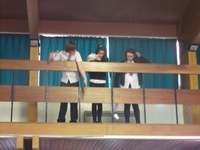 On Thursday 28
th
March all S1 pupils gathered in the hall to participate in the Science Easter Egg Challenge.
Their challenge was to protect an ordinary egg (uncooked) from breaking when dropped from the walkway in the hall.
Prior to the challenge pupils had chosen their teams (maximum of 4) within their own school houses and had decided on a team name.
Pupils were given 25 minutes to design something that would protect their egg many having brought resources from home with some supplied by the science department.
All pupils worked extremely hard on their designs and great team spirit was shown by all pupils.
After the 25 minutes were up eggs were then dropped from the walkway to see which designs could indeed protect the egg from breaking.
Many interesting designs were seen including putting an egg in a jar of peanut butter, wrapping the egg in glittery play dough and many designs featuring a parachute
.
Many of the eggs survived the fall showing that we have super scientists within Menzieshill High School.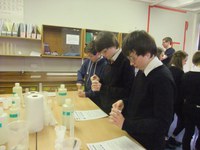 Pupils experimenting
On the 20th February 2013 S2 pupils were treated to a visit from the University of St Andrew's Chembus. Pupils were first given various demonstrations involving nitrogen, oxygen and carbon dioxide. Flowers placed in liquid nitrogen by pupil volunteers were instantly turned glass like and bananas placed in liquid nitrogen were then shown to be of use to hammer in nails should the need arise when no hammer is available. Pupils were also treated to flying bugs through the production of carbon dioxide and popping balloons filled with nitrogen gas. Pupils were then split into four groups to gain some hands on experience of various experiments including turning copper coins to gold, making coloured slime and filling balloons with carbon dioxide from dry ice. In all a great experience was had by all S2 pupils showing them that chemistry has lots to offer.
You can view the photogallery here