Main News
Site News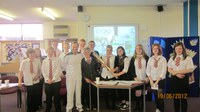 Ron McIntosh and S1 pupils
On Wednesday 20th June S1 pupils from Menzieshill High School hosted an evening of celebration: families, friends and special guests were welcomed to the library and guided through a year of Literacy Across Learning.  They watched a funky film and enjoyed a presentation by class reps.  The Olympic project for term 4 culminated with an inspirational talk by Olympic torchbearer Ronald McIntosh who told his inspiring life story and then became part of the judging panel for an S1 debate.  The motion was "This house believes that the 2012 London Olympics will be the best ever."  On this occasion the opposition won and both teams were praised for the high standard of lively debate.  Literacy Across Learning is a new S1 course at Menzieshill High School which has been praised by Education Scotland and featured in a 4 page spread in the Times Educational Supplement.
Find out more about Literacy Across Learning and see our film on our blog
Visit of TimeRiders author Alex Scarrow
Alex Scarrow
Second year pupils at Menzieshill High School had a treat on Thursday 26th January when the award-winning author of the Timeriders series, Alex Scarrow, visited the school to talk to them. Alex, who had careers as a rock guitarist, graphic artist and computer games designer before as he says "growing up and becoming an author" gave a lively and varied talk including video trailers and audience participation, discussing how our world would be different if, for example, Hitler had won the Second World War or the Roman Empire had not fallen. He finished with a gripping reading of the first two chapters of his first Timeriders novel leaving everyone on a cliff edge of anticipation to find out how the story continues.
S4 Modern Languages event
On Friday 24 February Menzieshill High School held their annual Languages in Work event, where S4 pupils have the chance to experience first hand what it's like to use another language in a work environment. This year the business language was German, and the pupils joined companies such as Spar, Volkswagen and Siemens.  After the initial nerves, they confidently carried out all the tasks required by their companies - booking hotel accommodation for a visiting businessman, arranging transport from Germany to Dundee, making a phone call to arrange to meet a visitor (and later meeting them at the right time and place!).  Pupils could also choose to attend an interview for a summer job in Germany.  The pupils found it challenging but good fun.   
Each year local businesses generously allow the school to benefit from their German and French employees, who take on the role of tourist officer, interviewer, or visitor  for the afternoon.  This year we had three guests: Ingo Hein from the Scottish Crop Research Institute, Clémence Tardy from Dundee College, and Marlies Cowan from Tullis-Russell.  We are very grateful to them all for giving up their time, for being so encouraging and understanding, and for providing such a positive experience for our pupils.
Job interview with Ingo Hein ( from left Callum Barr, Jamie Bell, )
Making a business call (Ross Starke)
Pupils with Ingo Hein and Clemence Tardy