Main News
Site News
Thursday 12th December at 7.30 p.m.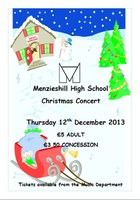 Come along to Menzieshill High School at 7.30 on Thursday 12th December for an evening of music and performance from our talented pupils. You can see a full-size poster here.
Information about study support opportunities for pupils can be found here This contains details of the subject specific sessions run by departments and of the whole school support available.
The S3 Parents' Information Evening on Monday 11 November has been cancelled. All S3 parents should shortly be receiving a letter with further information about this and the alternative arrangements that have been made.
Health information and peer-led services for young people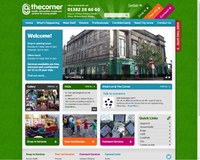 The Corner runs a wide range of drop-in services for young people covering a variety of health and other issues that young people face today. Their website has details of these and also a great deal of useful information and links to further help.
Menzieshill High School P6 and P7 Parents Open Evening – Thursday 7th November 7pm-9pm
Parents of P6 and P7 pupils are invited to come along and find out what Menzieshill High School has to offer.  During the evening prospective parents will gain a first-hand experience of what education is like in our school, visit a variety of departments, take part in a whole range of activities and talk to staff and pupils of the school.
A new partnership between the Internet Watch Foundation and ChildLine to help young people get sexually explicit images removed from online.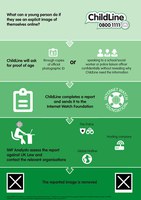 ChildLine and the Internet Watch Foundation have joined together to provide help and advice for young people about how they can get sexually explicit images of themselves removed from online. "Sexting", sending explicit images to friends, is increasingly common and young people often do not appreciate the risks of this behaviour and how these images may end up in places they never intended and may become public. This new initiative aims to show young people what they can do about it.
ChildLine have also developed an app for young people called Zipit. "The app offers witty images to send instead of explicit ones, advice for how to engage in safe chat, what to do if you feel threatened or if an image becomes public and a direct link to call ChildLine." The app will be available later this month.
This Press Release gives more detailed information. There is useful information for parents and carers on sexting on the NSPCC website
Our new homework guide for parents
Menzieshill High School has just published a new guide for parents outlining the school's homework policy and the supported study opportunities available to pupils.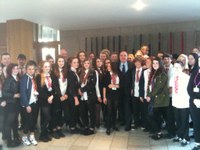 The pupils with Alex Salmond
This year, 39 S3 pupils took part on the visit to the Scottish Parliament which took place on 3 October. After listening to First Minister's Question in one of the meeting rooms, the MHS group then had the chance to question local MSP Joe Fitzpatrick on issues of concern to them including 'the bedroom tax', the Waterfront development and, of course, the independence debate. Several pupils, including John-Paul Sinclair and Ruairdh Lowson, deserve special mention for questions asked.
Following questions, Joe took the group on a tour the parliament including taking time in the Chamber where Joe explained some of the ways and areas in which MSPs worked. Finally, the group were very fortunate when First Minister Alex Salmond came over to speak with the group and to answer a number of further questions. All in all a very successful and memorable visit.
Once again, the Modern Studies Department thanks local MSP Joe Fitzpatrick and his parliamentary colleagues Tom and Douglas for organising and leading our S3 visit to the Scottish Parliament.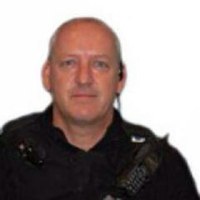 PC Frank Sturrock dropped in to MHS to answer questions from the Modern Studies S4 class as part of their AVU. Questioned about his views on the death penalty to the legalisation of cannabis, Frank later tweeted on the quality and range of the pupils' questions.  The department would again like to thank Frank for taking the time to visit.