Department News
News for Young Mothers Unit
YMU 'good' or 'excellent' in every category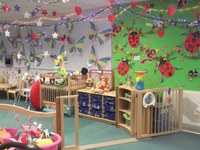 Once again, the Young Mothers' Unit has been awarded a "very good" grading following a recent unannounced inspection visit from the Care Inspectorate.
In all the individually inspected areas, the YMU was graded at a 5 which means in the 1-6 grading system it is considered to be "very good", with the exception of the section specific to staffing, which was graded a 6, the highest possible score indicating "excellence".
This report reflects the consistently high quality of the service which is provided for young mums and their babies.  The inspection covers specifically targeted areas e.g. Management and Leadership, Environment and Staffing and the inspector also seeks the views of service users and their parents.
Yet again, the staff of the YMU are justifiably proud of their efforts being recognised so positively.
Menzieshill one of only five finalists in Scotland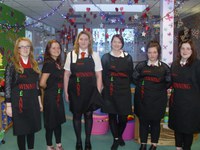 Congratulations to the YMU pupils who have been successful in being selected as just one of five finalists in Scotland. The girls submitted a Money for Life Challenge project in this national competition and it is a huge achievement to reach this exciting stage. The Scottish final will take place on Thursday 3 April 2014 at Dynamic Earth in Edinburgh, where the girls will have the chance to present to the audience and tell the judges face to face all about the great work they have been doing.

They have combined their Money Path sessions and their nutritional/weaning sessions, both with outside agencies, to create a leaflet demonstrating the financial benefits of home cooking during the weaning process. We also teamed up with the local Credit Union to show how easy it is to save with them for various events. The girls demonstrated their work by delivering a presentation to other young parents at the St Andrews Project in Dundee and also to the EECC class here in school. Well done and good luck.
You can find out more about the project, and what our pupils and staff thought of it, here.