Houses of Parliament visit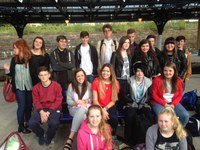 Eighteen senior pupils and two staff took the opportunity to visit the Houses of Parliament in Sept. As well as the parliamentary building tour, the pupils took a flight on the London Eye, shopped on Oxford Street and went to see a west End Show: Charlie and the Chocolate Factory - sweet!
Throughout the two day visit the pupils behaved well and were a credit to themselves and the school. Thanks to local MP Jim McGovern for arranging the HoP tour.