Christmas Concert
The 2012 school Christmas Concert took place on 11th December.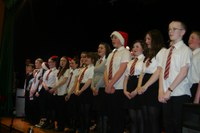 Some of the performers
The school's Christmas Concert on Tuesday 11th December was a great success.  Pupils from all year groups showed off their musical skills with a range of groups performing.  These included the string group, a brass band, a woodwind group and even a ceilidh band as well as the S1-S3 and S4 – S6 ensembles and the choir who, as well as singing themselves, insisted on audience participation.  Hearty thanks must go to Miss O'Neill and Mrs Coull and all the music instructors who made sure our pupils performed so well.
The concert was preceded by a Christmas Market with a range of stalls selling Christmas goods, crafts and cake and candy.
You can see photographs here.