Molly wins McIntosh Patrick Award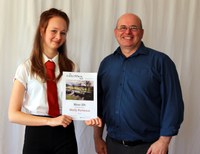 McIntosh Patrick Award 2014
The 15th annual McIntosh Patrick Awards ceremony was held at the McManus Gallery Dundee on Tuesday 26th August. The ceremony launches the annual exhibition of senior pupil art work submitted by all Dundee secondary schools.
The winner this year is Molly Porteous from Menzieshill High school. Molly's winning work was based on work created at life drawing class. This was then developed in the art department using cutting edge technology combined with classic craftsmanship, a testament to Molly's ability and evidence of creative working practice between Art and Technical.
The exhibition is open to the public for the next two weeks.
Drew McIntyre
PT Art & Design