Main News
Site News
Thursday 6th November 7pm-9pm
Parents of P6 and P7 pupils are invited to come along and find out what Menzieshill High School has to offer. During the evening prospective parents will gain a first-hand experience of what education is like in our school, visit a variety of departments, take part in a whole range of activities and talk to staff and pupils of the school.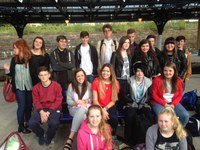 Eighteen senior pupils and two staff took the opportunity to visit the Houses of Parliament in Sept. As well as the parliamentary building tour, the pupils took a flight on the London Eye, shopped on Oxford Street and went to see a west End Show: Charlie and the Chocolate Factory - sweet!
Throughout the two day visit the pupils behaved well and were a credit to themselves and the school. Thanks to local MP Jim McGovern for arranging the HoP tour.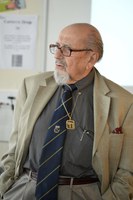 Harry Bibring from the Holocaust Educational Trust visited the school and gave an incredibly moving but also entertaining presentation to all pupils in S2 (many staff and senior pupils also came along to hear Harry speak).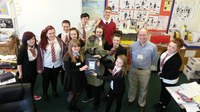 Brian Kelly from the Dundee Heritage Trust visited our S1 class with a range of primary sources from Captain Scott's voyage to the Antarctic.  Pupils dressed up in Captain Scott's outfit and got to see some fascinating photographs from the museum at Discovery Point.
Menzieshill High School team win through to the finals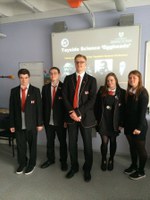 Congratulations to Jess Alexander, Sam Barclay, David Bovill, Graham McGee and Chloe Stewart who took part in a nail-biting head to head against Baldragon High School. The Team won 2 rounds to 1 and now go forward to the Final, representing Dundee against University Professors on the 7th of November as part of Techfest.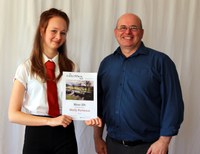 McIntosh Patrick Award 2014
The 15th annual McIntosh Patrick Awards ceremony was held at the McManus Gallery Dundee on Tuesday 26th August. The ceremony launches the annual exhibition of senior pupil art work submitted by all Dundee secondary schools.
The winner this year is Molly Porteous from Menzieshill High school. Molly's winning work was based on work created at life drawing class. This was then developed in the art department using cutting edge technology combined with classic craftsmanship, a testament to Molly's ability and evidence of creative working practice between Art and Technical.
The exhibition is open to the public for the next two weeks.
Drew McIntyre
PT Art & Design
Free Office software for school pupils
Office 365 poster
Microsoft Student Advantage
Microsoft have launched Student Advantage to provide eligible pupils with a free subscription of Microsoft Office 365 ProPlus. This allows pupils to install Microsoft Office ProPlus on up to 5 computers simultaneously.
This facility is available to all pupils in Dundee schools exclusively through their Dundee Microsoft Office365 account. Use of this account is covered by the Acceptable Use Policy.
Further details including information about how to download the software is availbale here in the Parents Documents section of the website.
Wednesday 27th August 6.30 p.m.
The next meeting of the MHS Parent Council will be held on
Wednesday 27th August
6.30 p.m.
in the meeting room.
All interested parents are invited to attend.
Rachel Beattie, Menzieshill High School Head Girl wins prestigious city award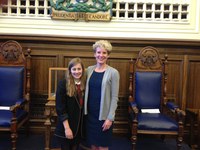 The Lord McManus Young Citizen of the Year 2014
Awarded to Rachel Beattie Head Girl at Menzieshill High School, pictured with Miss Gray after the presentation. Rachel took on the responsibility of head girl this year, a duty which she performs confidently with a determination to always give of her best and is a role model to others.  Rachel's legacy to Menzieshill High School is the formation of a Senior School Prefect Council which she has formed and chairs with quiet assertiveness.  She has made an outstanding contribution to both music and sports within the school and local community.  She coaches the junior basketball club in school and is a Sports Ambassador where she supports and coaches young people from across the City.  Rachel is a talented musician who shares her gifts by tutoring the junior string orchestra for Dundee.  She has played at many functions representing the City both locally and nationally including performing at the Lord Provost's Ball, the Aberfeldy Mod and has been a founding member of The Braes of Menzies Ceilidh Band which plays at and supports school and community functions.  Rachel has for many years volunteered at Rainbows and Brownies, been involved in fundraising for the Rotary and has gained her instructor's certificate for Heart Start.  When asked about a special time during S6 Rachel said that she would treasure the opportunities afforded to her in her Head Girl role and in particular has felt rewarded by seeing how the younger pupils have developed and grown throughout the year.  Rachel is heading off to St Andrews University to study History and International Relations.
Wednesday 4th June, 2014 at 6.30 in Meeting Room, Menzieshill High School
Parent Council AGM
Wednesday 4th June, 2014 at 6.30 in Meeting Room, Menzieshill High School
If you would like to come along to find out a bit more about our school's parent council then please feel free to attend the school at the above time.
This is informal and you would not be expected to do anything!
If you feel you would like more information about the parent council and unable to attend at the above time then please feel free to contact Pauline Crosbie, Clerk,  at pauline.crosbie@dundeecity.gov.uk for more information.