News
Site News
an online parent survey which can be accessed via the link below: http://consult.dundeecity.gov.uk/limesurvey/index.php/137699/lang-en
The Pan Tayside team is in the process of carrying out an evaluation on the impact of 1+2 in partnership with the University of Dundee.  This year we are focussing on establishing a baseline therefore schools involved in the evaluation will be at different stages with their 1+2 strategies.
We have created an online parent survey which can be accessed via the link below:
http://consult.dundeecity.gov.uk/limesurvey/index.php/137699/lang-en 
This questionnaire  aims to explore parents' awareness and understanding of Language Learning: A 1+2 Approach.
Participation in this evaluation would benefit the local authorities and schools to enable them to develop appropriate materials and staff development to effectively implement the Government's Language Learning: A 1+2 Approach.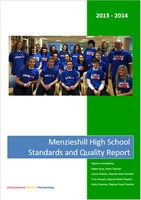 The Standards and Quality Report for 2014 is now available here. Here you can find out about our school's performance and some of our successes.