News
Site News
MHS raises cash for cancer awareness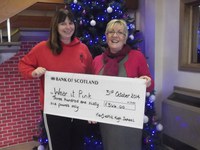 Mrs Dorward and Mrs Seith with our donation cheque
This event has become something of a tradition in Menzieshill High and historically, took place over one day where a staff coffee morning was held and pupils wore something pink.
This year it was decided that we should shake things up a little and run things differently.  We organised the running of cake and candy stalls in the staffroom and social area at morning intervals with the staff stepping up as generously as always and baking a fabulous array of tempting treats over the course of the whole week.  This proved to be enormously successful particularly with the pupils, who seemed to enjoy all the home baking.
On the final Friday, we held a "Wear it Pink" day where pupils were allowed to wear a pink accessory with their uniforms if they paid £1.00  The whole week was a huge success and a whopping £366.00 was raised by our very generous staff and pupils for this very worthy breast cancer awareness cause.